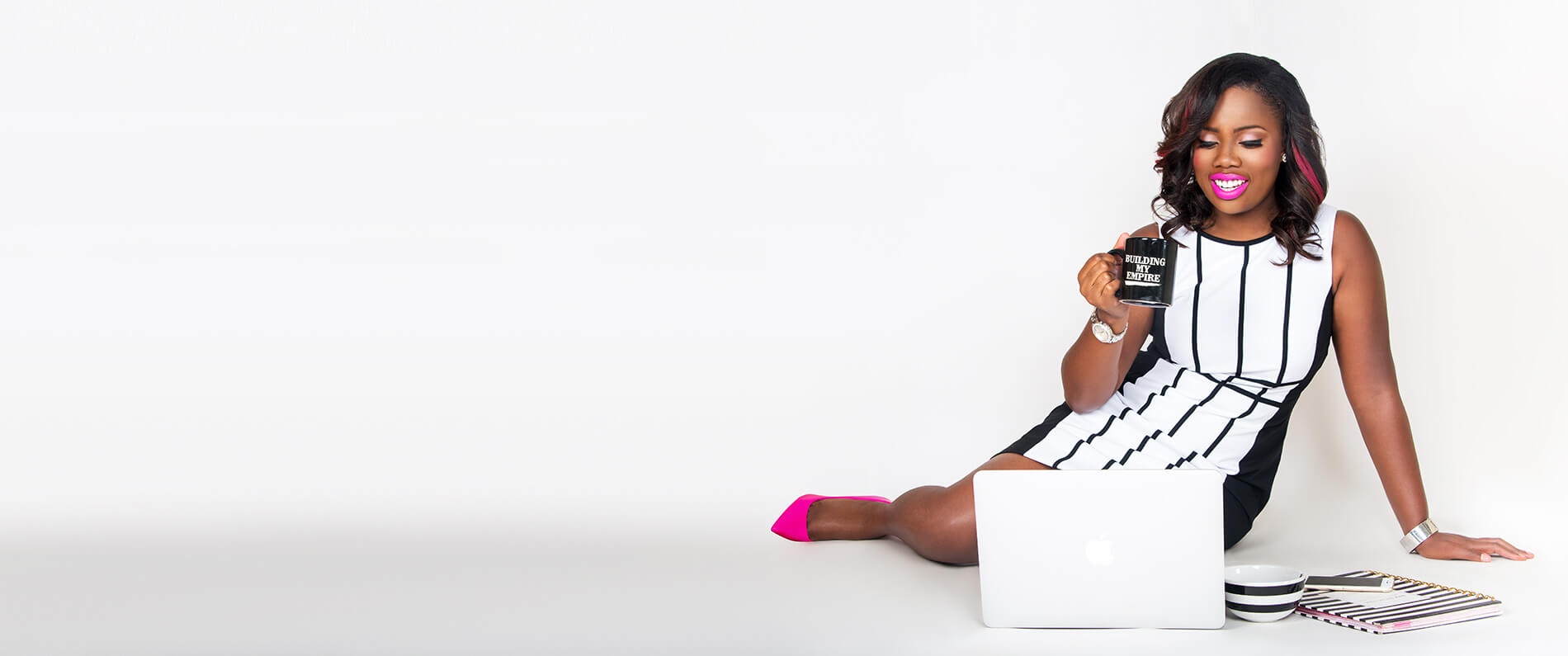 Be the Boss. Ignite Your Impact. Take Your Brand Global.
IT'S TIME TO STEP INTO YOUR GREATNESS, CREATE THE IMPACT YOU DESIRE & FINALLY EARN 6 FIGURES
STARTING TODAY!
There's More to Life Than You Are Living Right Now. YOU KNOW THIS!
"Income, Influence and Impact"
When entrepreneurs read these 3 words, they want all of it. But probably don't believe they can have it ALL. In fact, even if they believe it, they get caught up with a ton of strategies that rarely can make it a reality for them.
But I'm here to talk to that one person who is bold enough to say
"SHOW ME"!
"I'M READY TO TAKE THAT STEP.
Because
I know there's MORE (a Whole Lot More) than the life I'm living right now.
And
I'm going to do ALL it takes to achieve clarity, visibility and profitability
So
I can ULTIMATELY take my BRAND GLOBAL."
THAT'S WHERE I COME IN!
AN AWARD WINNING COACH, A SPEAKER & A BEST-SELLING AUTHOR.
I help you, the visionary woman entrepreneur, step into your greatness, create the impact you deeply desire, make a 6-figure income your new reality and build online brand empires. I will equip you to launch your greatness into this world with proven strategies that result in taking your brand global.
I'm committed to helping you create your FIRST $1000 all the way to your FIRST $100, 000 and beyond.
As a busy entrepreneur, full-time doctoral student and a world traveller, I have been able to create that reality for myself.
And I'm here to help you do the same.
THE REALITY IS…
You are created to BE MORE. LIVE MORE. DO MORE.
You can achieve whatever you desire no matter your current circumstances.
But I wasn't able to live this reality for a long period of time.
I had limiting beliefs and I was afraid – literally scared – to take risks. For a long time, I wasn't able to knock out my limiting beliefs.
Deep inside I felt…
"I'm not worthy… I'm not brilliant enough… I'm not experienced enough."
I don't have what it takes.
And I kept living with this thought every single day…
"What will people think about me if I show up as the real me?"
I wasted a lot of time!
The self-esteem issues pulled me down and I wasn't able to help the beautiful people I could help. I wasn't able to build and expand my brand the way I desired.
Unfortunately, I believed in things about myself that simply were not true. And those self-limiting beliefs held me back from stepping into my greatness.
And there was a point when I was tired of
Not stepping into my purpose.
Being in my comfort zone.
NOT DOING what I was BORN TO DO.
I was tired of NOT LIVING AN EMPOWERED AND BOLD LIFE
Getting up early, working late nights and continually exhausted with headaches, neck pain and red eyes...
All because I went the DIY Style (Yup! DIY)
I was studying to get my doctorate while trying to get my online business off the ground. All by myself.
And what was I actually doing…? Everything – but NOTHING AT ALL THAT HELPED.
I was consuming mountains of free content, priced myself less than what I should and did everything I was told.
And the result…
I lost the little bit of freedom I had altogether.
BUT THE MOMENT I EMBRACED MY REALITY… I BECAME THE POWERHOUSE I AM TODAY
I dropped the "good" advice out there, worked on my mindset, let go of ALL THE RULES and FINALLY created a brand that I truly, fully, and honestly loved.
When I did JUST this…
I went from $80 months of pure struggle to consistent $8K months of pure joy.
I started effortlessly attracting clients rather than waiting for them to come to me.
I began charging based on the value I bring to the table.
AND
I established a reliable monthly income and kept scaling my business without burning myself out.
I ultimately created a personal brand that keeps rocking online without any salesy or pushy marketing techniques.
I'm committed to helping you become the powerhouse you really are.
The epitome of greatness. A legend.
Listen, my friend
"Your tribe is impatiently waiting for you to make a BOLD move. They are looking for you. They are praying for you. They need to know that you exist. Now is the time for you to rise into your greatness."
You have to believe in yourself.
BECAUSE YOU ARE WORTHY AND BRILLIANT!
You just need to take that step.
A FEW FACTS ABOUT ME…
I crossed the 6-figure mark in under 3 years.
My first paid speaking gig for an audience of 5 people. I earned $50.
I have served clients on 4 continents and multiple countries… exciting, right?
I'm a Bill and Melinda Gates Scholar, HBCU (Historically Black Colleges and Universities) and IVY League grad
I was voted the most likely to be on Facebook in Grad school. Now, I leverage Facebook to build my brand and make money online.
My 1st speaking gig was at middle school graduation in front of an audience of 5000.
I undercharged and undervalued my services so much that it almost bankrupted my business.
My mother is my best friend and biggest cheerleader.
I love Wendy Williams (How are you Doin?)
WANNA KNOW A FEW OF MY SUPER POWERS?
Yes, this is exactly what made me the powerhouse I am today ☺
I like to dance when no one is watching. You can happily come over to join the party but eyes closed, my beautiful.
I have a driver's license but driving makes me nervous. Did I just say that? Well, you didn't hear anything… ssshhh!
I am a social media addict and slightly socially awkward. This itself is quite awkward!
Trust me, I'm NOT clumsy at all… But I keep wondering why my every tech gadget has a dent or a cracked screen. God knows!
I go to Chuck E. Cheese and Costco just to eat pizza. And please note, her highness loves pizza with a side of cucumbers (healthy and crazy, but healthy).
I can successfully butcher multiple languages. Those languages… Oh, I just love them. But wait! Do they love really meeee? (Oui ! нет! Tal vez sea así)
I was born with a crown on my head. Just kidding J. But that's what my name literally means. My father named me Shadé because he wanted me to be famous. Remember that famous 80"s singer?
My mom and dad exercised the power of THREE. Lol. I have 3 brothers and 3 sisters.
Did I just tell you I love gummy bears, Jamba Juice, and rainbow sherbet ice cream? Yes, I'm weird like that.
I love my nieces and nephews. Who doesn't, right? But I really love my nephew pup, Rocky. Like I really do… I hope my nieces don't see this ever! ;)
I know you secretly want my super powers ;). LOL!
Let's get real, beautiful people
Today, I invite you to dream bigger, live bolder and take your brand global doing what you love.
Are you in?